Historical Workshops
The Wasaga Artists have been very fortunate to host a variety of workshops, and artist talks over the years. We are so thankful for our guest artists who have come to share their talent and experiences with us, in order for our members to expand their own creative skills.
Sue Miller Workshop – Dec 7th
Loosening up with a brush!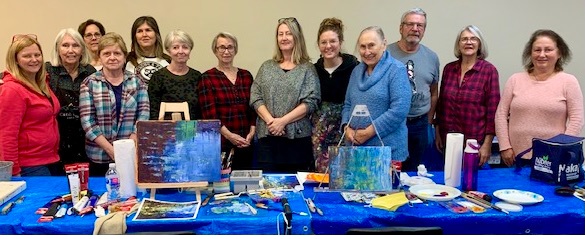 Wasaga Artists enjoyed a Full Day Workshop "Loosening up with a Brush" with SUE MILLER! Sue gave Wasaga Artists several exercises to do while painting to a variety of music, gave information & demonstrations onTechniques and tools to use to improve your paintings by utilizing shapes, colours and values which result in a pleasing and harmonious composition!

Festival Art Show Nov 5th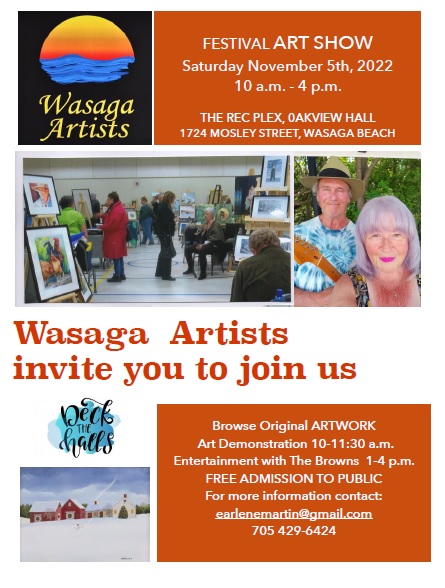 Painting workshop
w. Dar West!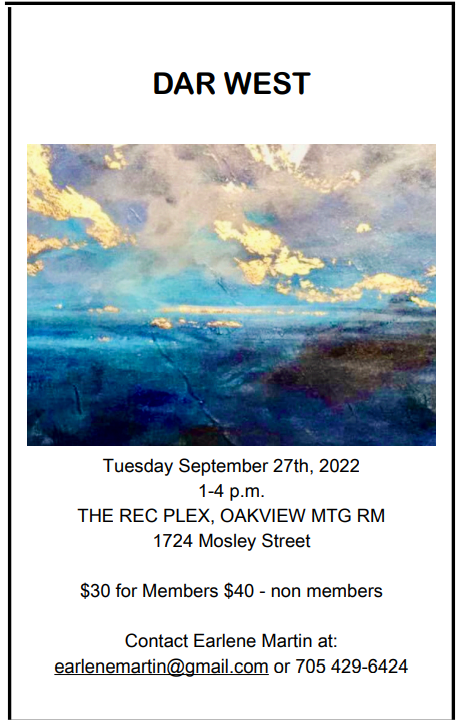 ---
Acrylic Workshop w. Shandelle McCurdie
Shandelle is an acrylic artist who moved to Wasaga Beach in 2019 and joined Wasaga Artists to connect with our community. She studied visual arts at Sheridan College and is now teaching young artists in the Simcoe area. She enjoys painting landscapes and architecture as a way to capture a special memory or place on canvas. Thanks Shandelle for hosting a wonderful workshop as part of the "Proud of Our Own" series .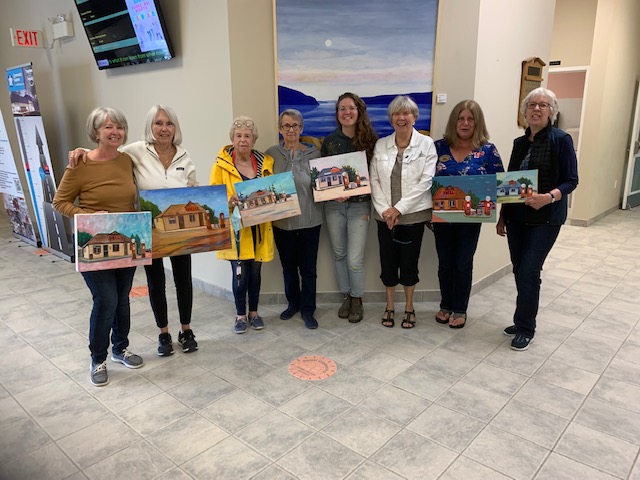 ---
Drawing Workshop with Carmelle Steele
Carmelle is a talented artist and has been a member of the Wasaga Artists for Fifteen years now. Her education in art led Carmelle to a career teaching at Sheridan College, her experience is such a great benefit to our group and we are so grateful for her knowledge and generosity. We are excited to be back in person and give many thanks to Carmelle for hosting our first workshop of our 2022 series, "Proud of Our Own".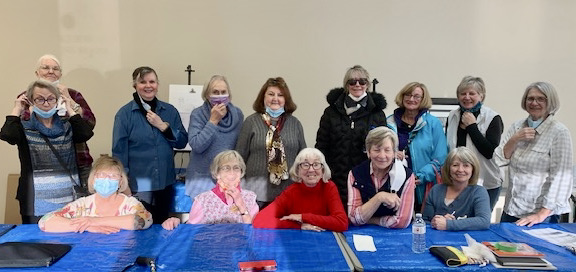 ---
Back to the Beach
Concert Series
We had a the wonderful opportunity to take part in this end of summer concert series located at the Stonebridge Town Center. Some of our local artists did a fantastic job of setting up the booths in the gazebo by the pond, a beautiful spot to showcase their beautiful work.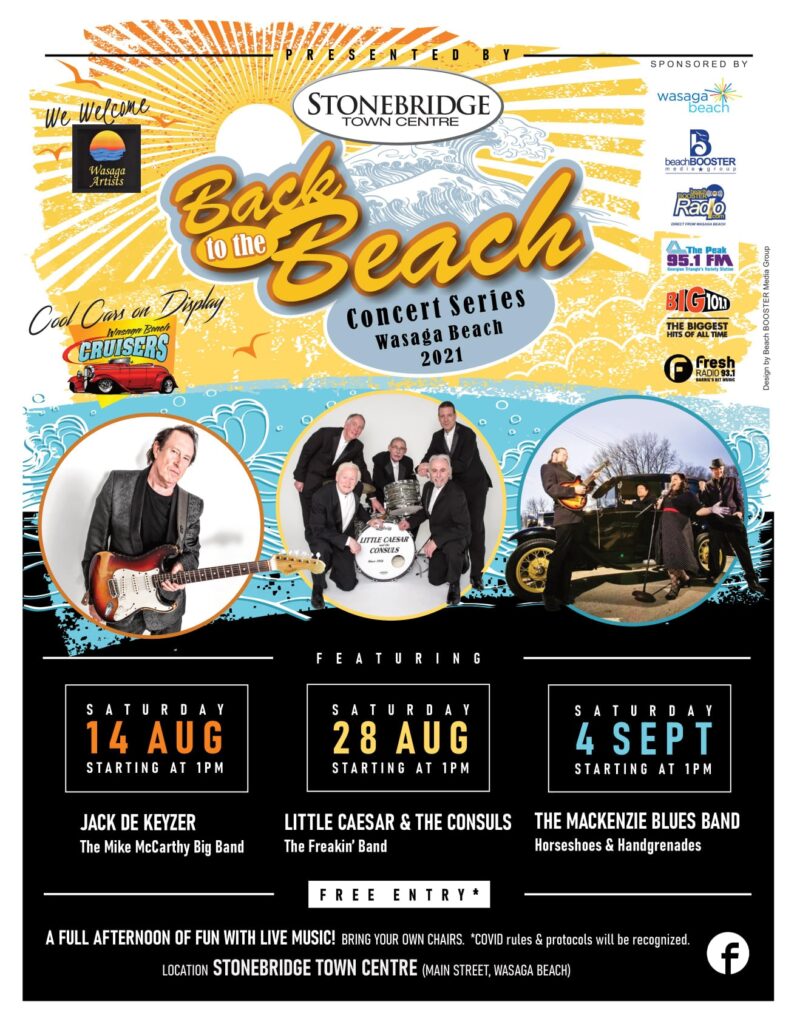 ---
Plein Air at the Beach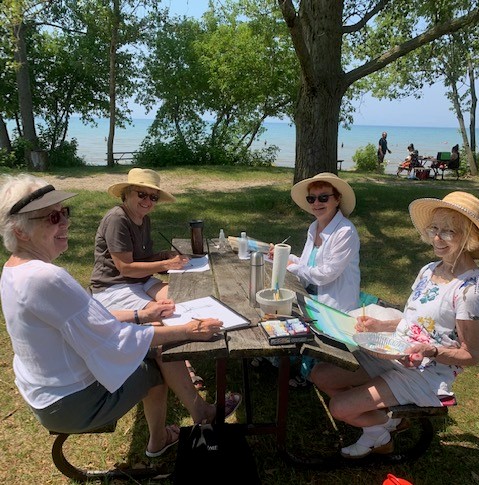 In June of 2021, we all gathered at Beach 2 to kick off the summer season with an afternoon painting en plein air. These outdoor sessions continued every other week for the duration of the summer as a way for us to feel connected, supported, and creative!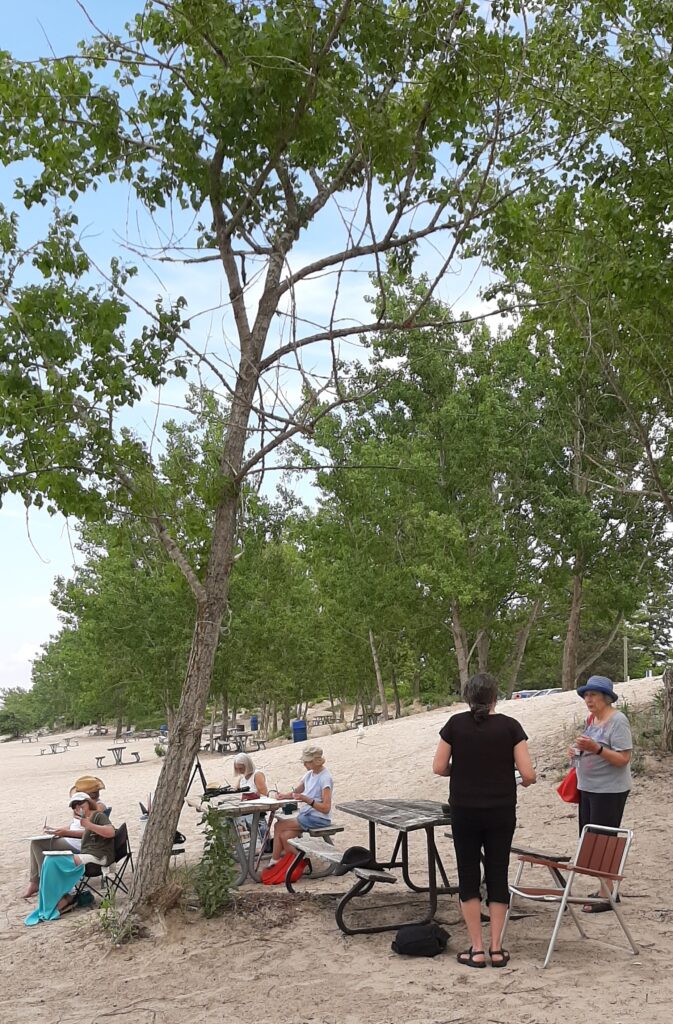 In early fall of 2020, a few of us all met up at Beach 2 area to sketch and paint en plein air. It was a fabulous way for us to safely see one another and be creative in our own 'backyard' on a beautiful day.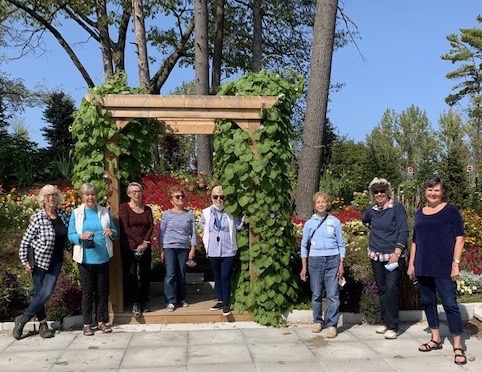 ---
Peter John Reid's Workshop
A small handful of our members took part in a workshop hosted by Peter John Reid at his beautiful studio space in Chatsworth at the end of September 2020.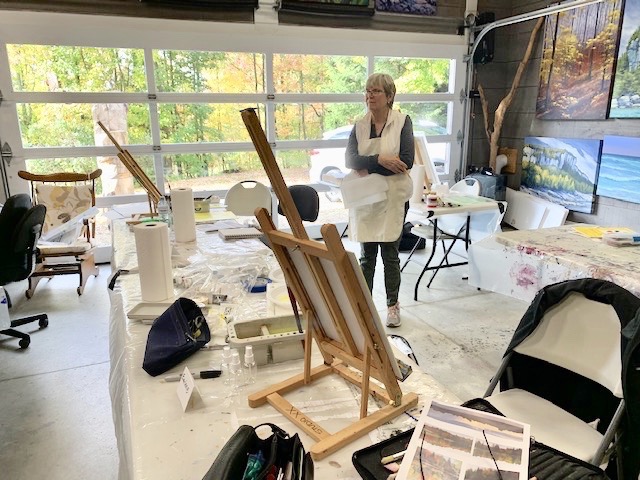 ---
Artist Talk with Ryan Sobkovich
Ryan Sobkovich came to speak to our members in January of 2020. He spoke about his creative process, to rise in the art industry and shared his future goals as an artist. He was an inspirational start to the year, his paintings and his work ethic are admired by us all.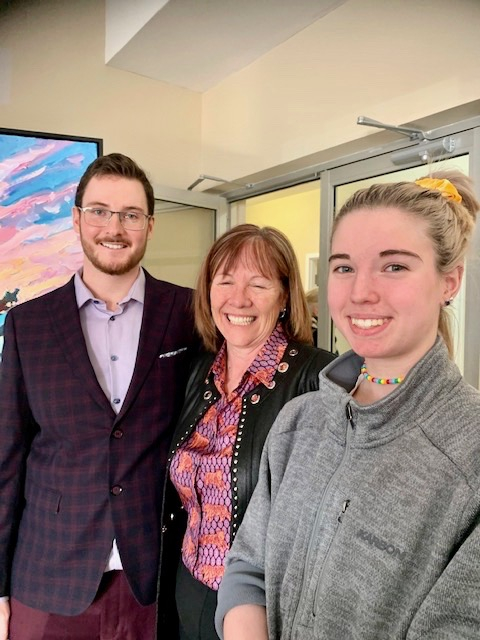 ---
Dar West Workshop
In November of 2019, we were fortunate to have mixed media artist, Dar West, host a workshop for some of our members and it was a total hit! Thank you Dar, and to our participating members; Yvonne Gibson, Carmelle Steele, Deb Chandler, Donna Nadolny, Earlene Martin, Elaine Dempster, Leny Jansma, Judy Holmes, Jayne Edwards, Jo-Ann Cass, Karin Meilinger, Linda Prentice, Paula DeHaas, Ruth Roberts, Sharon Mansbridge, Susan Ross.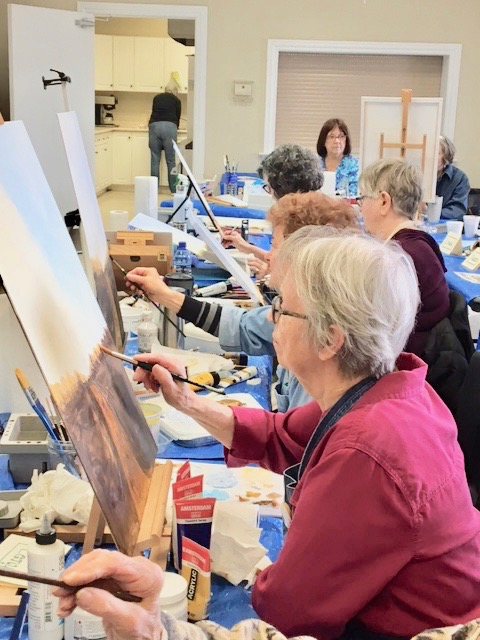 ---
Workshops Leaders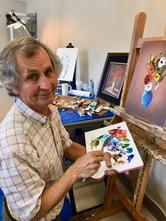 Wishing to join us for future Artist Talks or Workshops? Please be sure to check our News & Events page for updates or contact us for more information.